United Bimmer Do-It-Yourself Disclaimer:
The following tutorial is meant as a guide and is not guaranteed to be complete or 100% accurate. By following this DIY, you understand any work done on your car is at your own risk and we hold no responsibility if you break something. If you feel uneasy with this risk, we recommend you take your car to a professional mechanic to have the work done. Otherwise, enjoy yourself and good luck!
Okay. You can't afford tinting right now and want rear shades or you just want rear shades. If this is you then you have 2 options.
1. You can get these shades at your local BMW Dealership. $125 for the manual shade or $350 for auto install (only E46 and E39/E38-but this can work on E36 and E36 with extensive fitting not discussed here).
see BMW parts-explosion image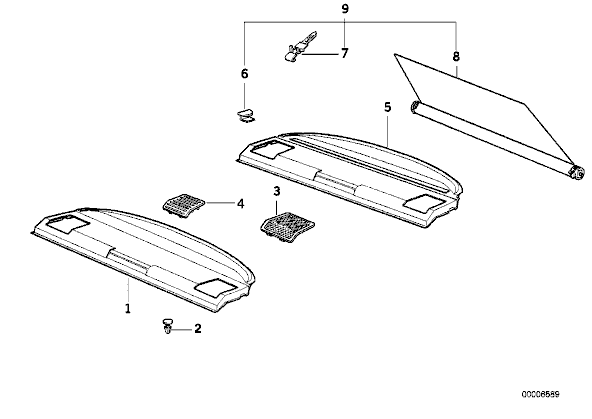 2. Your Second option is buying them for only $25 on Ebay. Yes they will be OEM quality and much easier and cheaper to install. If this sounds good read on.
Step one:
go to EBAY MOTORS and search "BMW E36 rear shade" or "rear sun shade BMW". You may see several sellers. Find the one for your car E36/E34/E39 and E46 all take the same size. Don't pay more than $30.00 (shipping shouldn't be more than $12)
Step two: When you get the shades, installation instructions will be on the box. What I'm offering here is tips since the instructions are very generic and not specific to your BMW. I have a 1995 318i E36 Sedan. So my picture and tips are based on my experiences with this car.
First: Center, and mark where the base will sit. Usually behind the speakers on the E36/E39/ E46 and I think E34s share the same speaker arrangements on the rear deck.
TIP: I found that the opening slits where the shade if extended from was better facing to the back of the car. This creates a snappy tension when raising and lower the shades. So not just anyone (say a child) can reach and pull on it for fun. For an adult it will be easy.
TIP: For the E36 the rear deck angles up on a slight slope after the rear speakers (see pics). I found that that was a better point to anchor the shade tube base since the shade rises at an angle and not straight up. (again see pics and you'll get an understanding of this)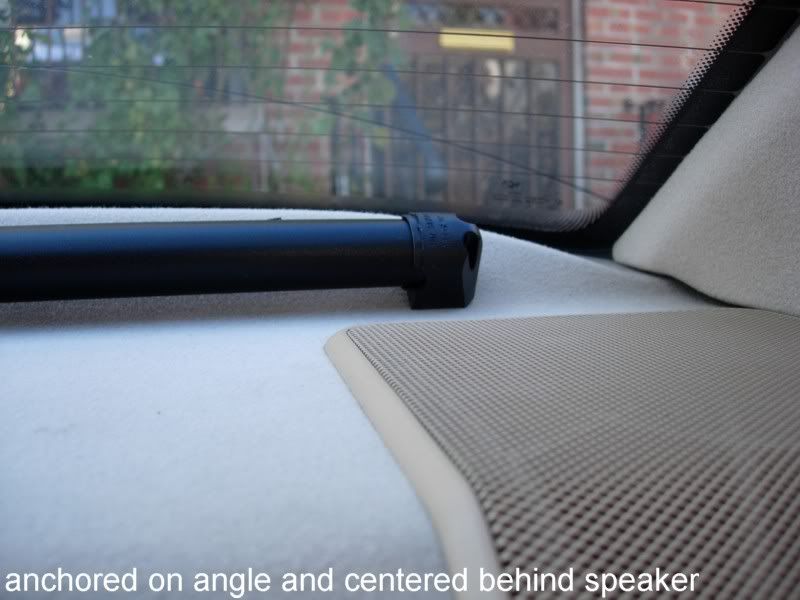 Second: Hold your breath as you void you dealership's long expired warranty for that rear deck by screwing in the anchor points. When done screwing; raise shade and let it snap down to make sure that it is anchored well. Okay. Raise shade again and mark where the 2 loops o the top of shade meet the headliner. Over extend the shade if you have to. Remember to make sure the shade covers all of the top of the rear windshield or an annoying slit of slight will creep thru the top. For my car I found that anchoring 2 inches or so into the headliner was sufficient for full coverage of the rear windshield. Don't worry about the sides. The glass will be exposed but light will not get in from the side due to the way the rear windshield glass curves around the car.
Third: This is the trickiest part of the DIY. IMPORTANT: When you decided on where you want to anchor on the headline make sure you test the points BEFORE SCREWING for soft spots. A soft spot will not hold the ceiling anchors for long. To explain what a soft spot is you have to feel the difference on your own headliner...yes they are random soft spots and hard spots across the headliner for reasons unknown to me. It will be tempting but DO NOT USE GLUE! Also if you have a lot of trouble finding a good hard anchor point on your headliner...go to autozone and buy the male screws and female washer screw rings (where the screw screws into the ring-don't know the technical name for this). Remove or pull down headliner and anchor the points in with the male screws below screwing up into the female rings on the other side (the topside or dark side that's hidden) of the headliner. This will secure the points. Now reattach your headliner. I found nice hard spots on my headliner and did not have to do that. Just to let you know.
Now test everything...
This DIY takes about 1 hour done right! I may seem easy but don't rush yourself or you can easily damage your interior.
The End.