Now don't get me wrong here, I Love UB. I do try to post when I have time to. But I noticed that there were new sections added on. Namely the Subaru section and the tech talk section. I hope I'm not writing this out of line, but isn't it a bit of an overkill to have a tech talk section when those tech subjects are covered under each respective model? This may seem a bit farfetched, however, here's a seniaro:
I want to post about a widgit upgrade. I go to my respective model, ie, 3-series...subtopic E46 and post about the widgit idea. While writting out the topic, I also have the option to have a copy of the thread posted under performance or another relevent topic via a bullet selection. Once posted, the widgit topic is placed under the E46 catagory and the Performance topic. Ok, that does sound stupid but it would keep those topics filled with prospective ideas. There are just so many topics to choose from, sometimes, I don't know where to post my topic. Maybe I'm being dumb about it.
I know it would be redundant, however, so is the system that is up now, seeing how NO ONE is posting in it. I just don't see the point in it. It clutters up the forum page making it huge. Same goes for the Subaru section.....
I know this has been spoken of before, and obviously it's been approved by the majority, but, since I wasn't around for that vote/discussion (classes u know...) let me ask this....
Why? Why is there a subaru forum intermingled with a BMW forum. I get the United Cars heading, it's a cool idea, but why have it all mixed. Why not have it separated completely, I'm sure Subaru is a fine automobile, I'm not debating that, I'm just asking why would there be a rather large section devoted to Subaru's on the main forum's (unitedBIMMER) page? This isn't a snobish idea that I'm wondering about. I'm just curious. Are we to assume that someday in the future, this page will be so LONG, filled with volkswagens and audi's, Ford's GM's etc, and whatever else lies out there?
Forgive me Harry, but, it just seems really out of place and a bit of an overkill.
Dough
EDIT: Hmmm... just realized that on my screen, sometimes there is a Subaru and Tech section and then sometimes it's not there....I'm not making this up... damnit, when I first come on, it's there, then when i reload.. it disapears.
AH HA... PROOF: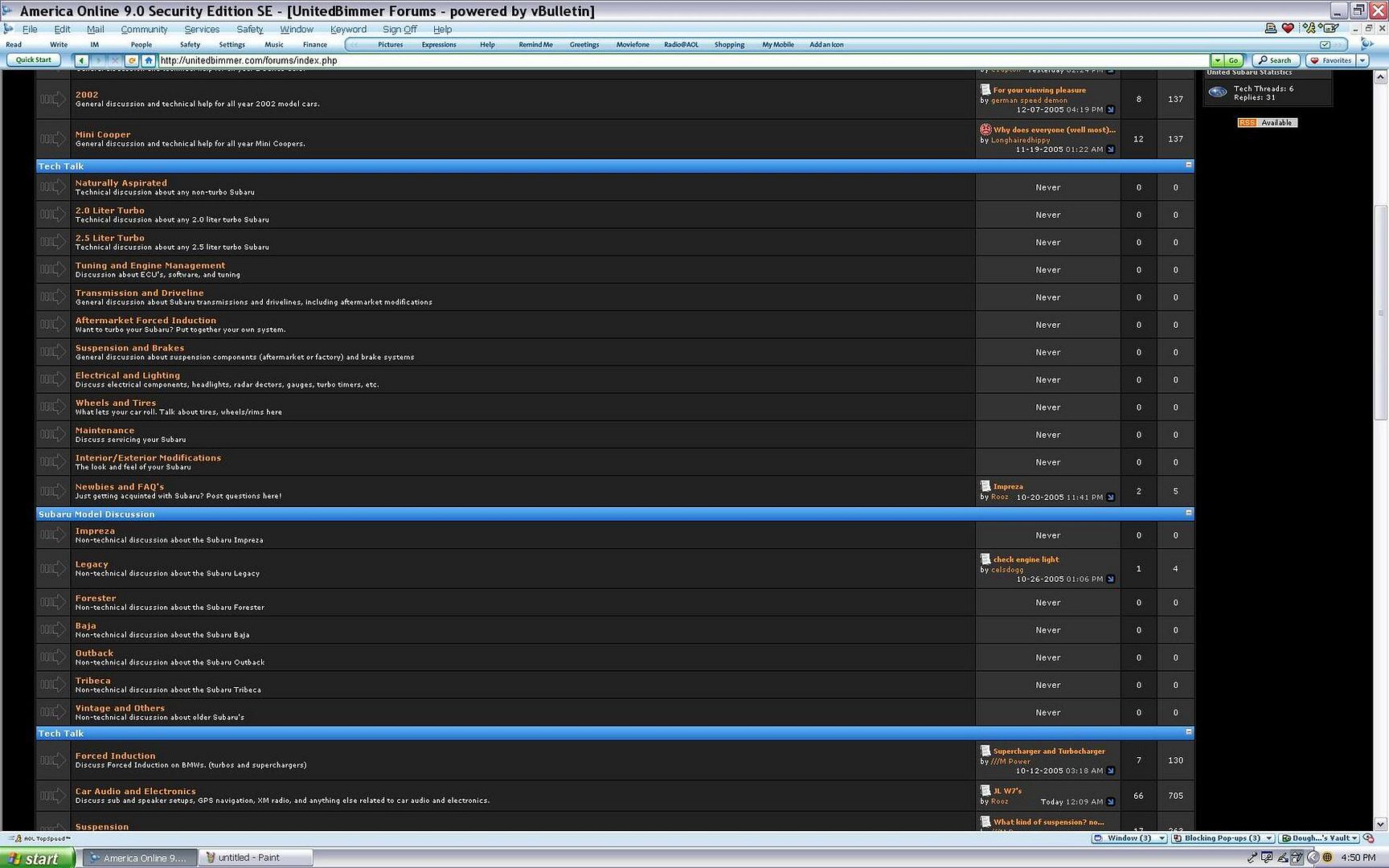 Sorry for the size.... 24" wide screen is hard to capture nicely.