This first picture was from last December when I first got the steel rings...It took me almost a year to man up the courage of breaking open my Steering/Airbag column and pulling out the cluster...AND YES! For E36 cars without the tilting steering wheel you MUST remove the wheel to remove the cluster...ther is NO OTHER WAY! (most DIYs on the internet are lying to you, if they tell you otherwise!)
It's fairly easy, but
scary
...Just remember unplug the battery first, and do not do any jerking or rough motions when removing the airbag or
it may explode on you
. It's two screws at the back of the wheel..use a
thin
TORX 30 head on a
thin
screwdriver and you'll get to it, even though the screw heads are deeply embedded.
Okay..from what you can see, I couldn't remove the wiring between the airbag and the column (as stated in all the DIYs for this process)...the Airbag module wire plugs are impossible to pluck out without risk of setting off the airbag. And the wire color-coding look like bomb wires. That, and the skull and bones warning stickers you'll see everywhere will scare the shit outta a first timer
: . What I ended up doing was ONLY removing the wheel behind the airbag module without disconnecting the wires...since the wires go from the module right through the center opening of the wheel and down thru the column into the belly of the dash. Once the wheel is off (it's easy as pie; just unscrew the center bolt, mark where it aligns with whiteout, and pull the wheel off), after this you can then pull the cluster out and unclip the 3 rear plugs that serves to wire and hold the cluster back. Once the cluster is out, you can easily rest the steering wheel back onto the column and carefully rest the airbag back into the original position ontop of the wheel-don't worry about screwing it down or it falling off, it will stay on.
Now you can leave the car and go inside and get on the the less scary and easier part; breaking apart the cluster! B)
nothing special: cluster from the back...don't tamper with bulbs or you may leave one loose when you replace the cluster and you won't find out until night time or later on when it gets dark and you notice one side of your cluster is in darkness...not that it happened to me...okay..okay..it happened to me... :o
okay, cluster dis-assembles in three ways: The back torquoise section (with the bulbs) and the front section which then splits like this- part one: the outer glass shell/part two: the actual cluster dials.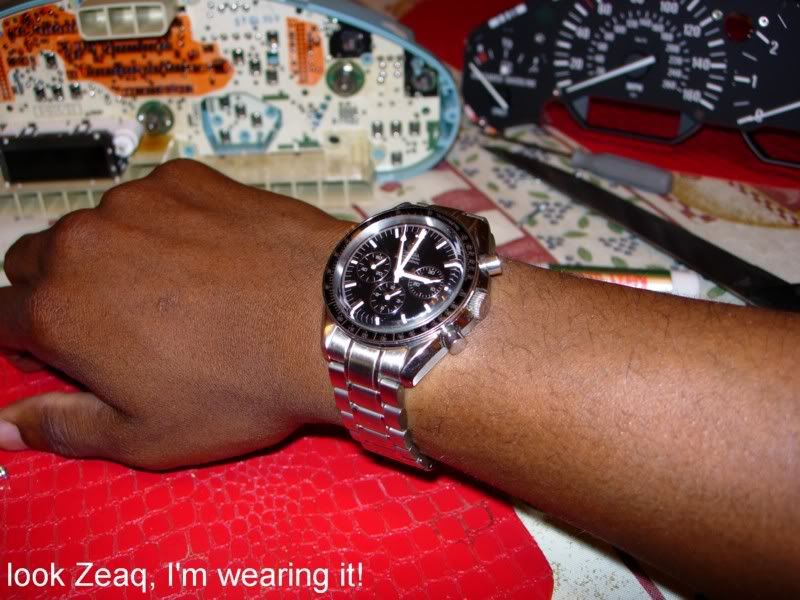 When installing the rings I used tape to hold them in place and steady from the front whiles I glued from the back. I did the end rings first, because the were smaller and the circular shape was simpler than the middle two cluster rings. Some rings on EBAY are sold with self adhesive backings..but those rings from what I've seen are not steel, but plastic/chrome imitations. So buy carefully. These are OEM grade steel rings.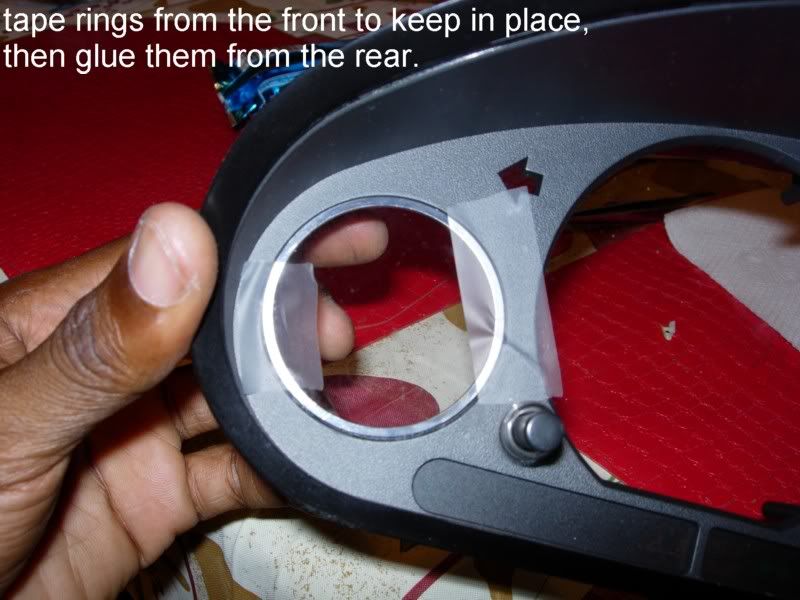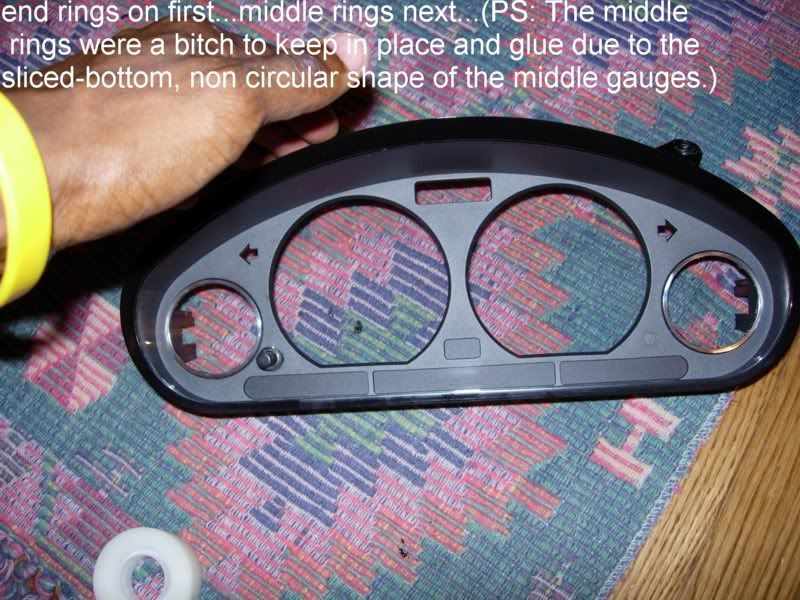 I found a Glue gun was best over other types of regular glues...the may be better ways of getting the steel rings to stick, but for me the hot glue gun was clean, simple, easy to clean if it spilt over the edges and the black glue blended best and looked more professional than the white chips/residues of other glues.