It's really simple. The only difficulty that can arise is from the unlocking of the headlamp unit from the assembly. After years of heat and cold weather, the plasic seems to jam up so removing it can become quite difficult.
Of course, you'll need a new set of bulbs. I purchased a pair from my local perfomance shop, PIAA EXTREME WHITE PLUS, cost me an outstanding $76. A quick search online and found them for around $60. Whatever, guess the shipping makes up for the difference.
So, on to the process:
Just wanted to point out the side that I'm refering to... driver's.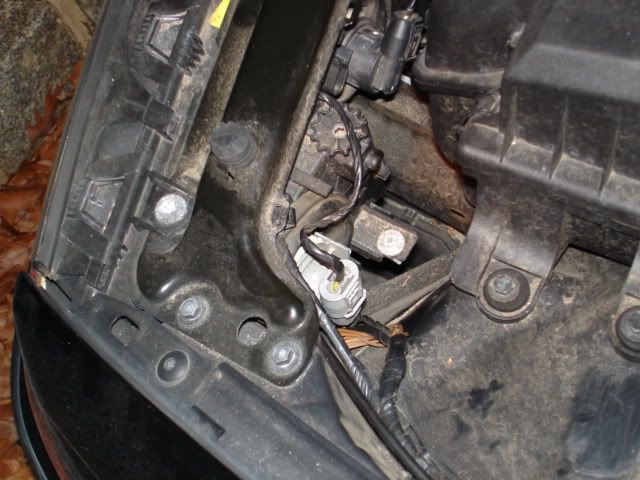 Here you can see the light grey colored unit that holds the low-beam bulb. The black one is for the high-beam.
A closer look: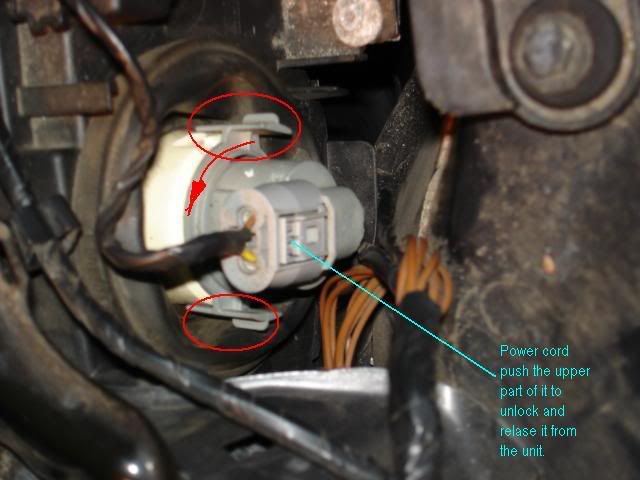 After you take off the power cord, you need to unlock the unit from the assembly by turning the tabs counter-clockwise. It maybe really hard to turn, especially the last eighth inch, at least for me it was.
Once off, remove the old bulb by gently rocking it out of the socket. And do note the position. The tab is aligned to the larger gap. I didn't realize it and wasted an hour while trying to figure out why it wouldn't exactly fit.
DO NOT TOUCH THE GLASS ON THE NEW BULB!
While inserting the new bulb, I used a cotton shirt to hold it, then applied pressure to the base. After the bulb was secure, I got a dab of rubbing alcohol and cleaned off any accidental fingerprints from the glass, just as a precaution.
Re-insert the bulb and the unit back into the assembly aligning to the groves on the side. Turn the lock clockwise to lock. Re-connect the power supply. Simple eh? Just don't get frustrated while trying to initially unlock the unit from the housing. It may take a while before it comes off... me an hour on one bulb with two people trying.
Just as a comparison:
Before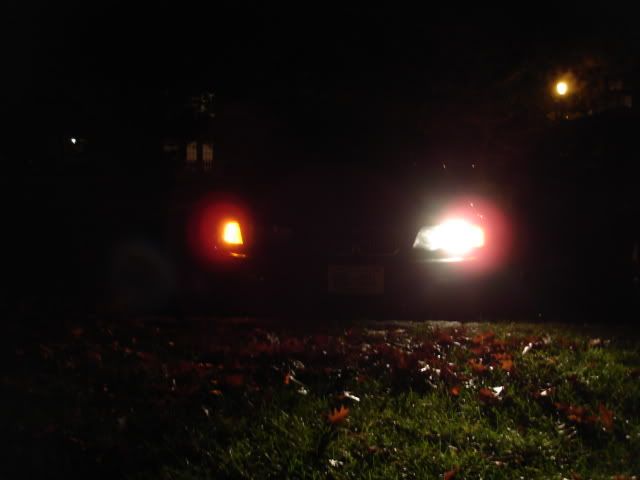 After:
Excuse the picture quality, but notice that the difference between the stock and aftermarket is very minimal. Just incase you wanted to see the difference/hype with PIAA vs stock. PIAA is brighter, but by alot, no.
OK, well that's about it on this topic. I'm sure it's a no brainer, but I just wanted to tell you all to not make the same tiny mistakes that i did, ie, bulb in backwards and what not.
Dough